People from many countries, such as the United States, the United Kingdom, Australia, Germany, France, Italy, Ireland, Austria, Czech Republic, Sweden, Canada, New Zealand, Mexico, Philippines, Thailand, Indonesia, Malaysia, China, Taiwan, Hong Kong, Korea, and Singapore etc have participated in the tour.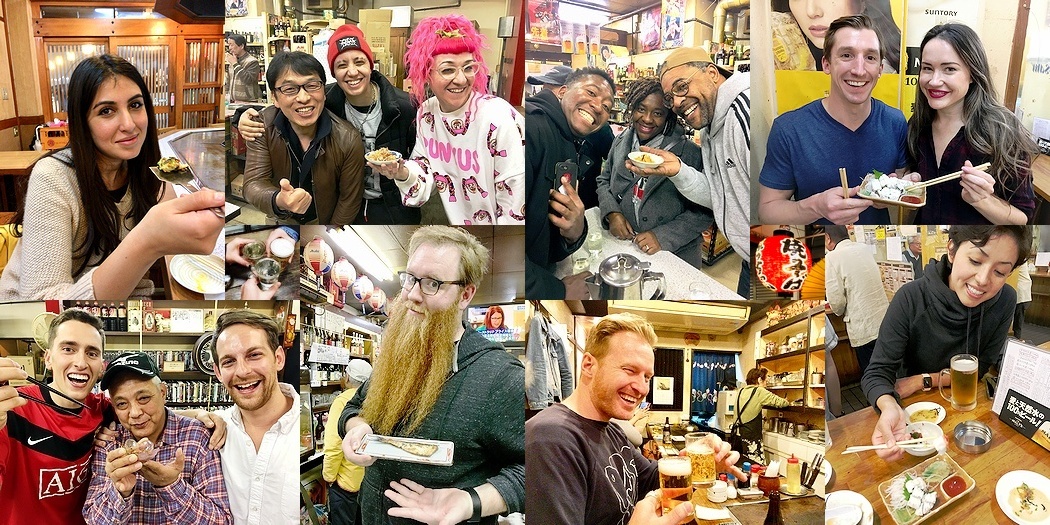 May 23, 2019
Dan / U.S.A.
Koh's experience was the best thing we did in Osaka. There was no other way I could have gotten such a local experience without Koh. He is very friendly and a great host, and we ate and drank and had a merry time at deeply local places. Highly recommended!
(Airbnb)
May 20, 2019
Valentin / U.K.
Koh's food tour was amazing! He was very friendly, talkative and knowledgeable. He showed us Osaka's local food and drink specialties in places we would have never discovered otherwise. The food we tried was unique and a good change to Sushi, Ramen etc.! The evening was nicely rounded off when we went to his local bar and got to talk to his friends.
(Airbnb)
Apr. 29, 2019
Kaley / U.S.A.
Lots of fun! Met some great people that I will never forget. The local dishes were really delicious, and the neighborhood has an endearing charm that can only be experienced in Osaka. Don't miss out on this!
(Airbnb)
Apr. 18, 2019
Samanda / U.S.A.
This was such a fun tour! Koh took us to some truly hidden gems, highly recommend this to anyone that wants a unique experience!
(Airbnb)
Apr. 18, 2019
Brian / U.S.A.
Unforgettable experience! This was one of the highlights of my entire trip to Japan. it was so cool hanging out with the locals and making friends in this very authentic Osaka neighborhood. A true glimpse into what life is like in this marvelous city.
(Airbnb)
Apr. 15, 2019
Shelley / Australia
We had such an interesting and entertaining night out with Koh. What a special opportunity to enjoy Osaka food and drinks with local people. The bars we visited we would never have found on our own, and everyone was warm and welcoming. Thanks for a great night, Koh!
(Airbnb)


Apr. 12, 2019
Hannah / U.K.
I loved this tour – Koh took us to really local places, the kind I would look at and long to go into, but wouldn't know what on earth (or how!) order. The neighbourhood is one you wouldn't typically visit as a tourist, so it felt good to see more of 'daily foodie life' in Osaka.
(Airbnb)
Apr. 12, 2019
Christina / U.S.A.
This was a really cool experience! Definitely wouldn't have visited Juso on our own (we were really the only tourists in the area). Loved the places Koh took us to and the things he ordered for us to try. Would recommend for any friends!
(Airbnb)
Apr. 11, 2019
Andy / Australia
I highly recommend Koh's experience. He has a great knowledge and passion for all things Osaka and food, and connected me with some wonderful locals who themselves were really open and welcoming. An absolute highlight of my Japan trip and just awesome to get access to some lovely people and fantastic food.
(Airbnb)
Apr. 8, 2019
Alexander / U.S.A.
This experience really made you feel like you were from Osaka. Koh takes you around to locations you wouldn't be able to access without significant knowledge of the local area and the Japanese language. I got to try foods I never even knew existed and build relationships with the locals with Koh as your translator. I would recommend this to anyone who wants to get away from the touristy stuff and get outside of their comfort zone. Would highly recommend.
(Airbnb)
Apr. 8, 2019
Katie / U.S.A.
Koh was a great host and brought us to 3 amazing spots we would have never ventured into on our own. Don't hesitate to book this experience if you want access to small, unique restaurants/bars and a chance to hang with locals. Thanks, Koh!
(Airbnb)
Apr. 4, 2019
Jordan / U.S.A.
Koh was very fun and lead us into friendly local spots that I otherwise would have never even noticed! Great tour, fantastic host, amazing experience.
(Airbnb)
Apr. 4, 2019
Li / U.S.A.
Definitely a unique and fun experience in Osaka. We loved the local bars and food on this tour. Highly recommend Koh — he made it a very fun night out.
(Airbnb)
Mar. 28, 2019
Jen / U.S.A.
This tour was terrific; we wouldn't have gone to any of these places on our own and were so glad to experience them through a local! Koh was delightful and made everything very easy and fun. Highly recommend!
(Airbnb)
Mar. 14, 2019
Oskar / Sweden
We all agree that we probably had the best night of our trip to Japan doing this experience with Koh. I really can't recommend it enough!
(Airbnb)
Mar. 11, 2019
Brittney / U.S.A.
Wow, wow, WOW! We loved the genuine local experience and food! We would have NEVER found the places, food, or drinks that we experienced without this tour and Koh. It was made more special when Koh translated for us allowing us to speak to local bar patrons and restaurant owners. Everywhere he took us felt like family; we were even offered by our dining neighbors to sample their food. We left feeling full and happy!
(Airbnb)